BENTONVILLE, Arkansas – The Walmart corporation, the largest retailer in the world, is preparing to replace more than half of their overnight shelve stocking staff with new super robots created by Reagent light Industries. The move, which looks to trim several hundred thousand jobs through the U.S. called Stangflip, is a must for the retail giant trying to make ends meet in the new fiscal realities that have been thrust upon us all. " We have been testing the (Walbots) for about a month now with great success," said James Plunk, chief operating officer of Walmart Human Resources and acquisitions. These Walbots go through training daily and won't miss a step when they replace their human counterparts."
We were given a guided tour through the Walbot training facility and watched as the Walbots completed their impressive tasks.
I am in charge of pallet placement training for Stangflip. This is the most difficult thing for these Walbots to learn. If they place the pallet too close to the merchandise on either side of the isle customers will have a clear path to get through. We are teaching them to place the pallet directly in the center so customers with carts will have no way to get around them. Stangflip! – Charity Holmes, Walbot Trainer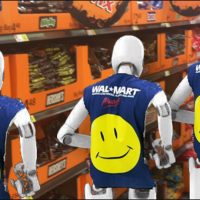 Some of the other training activities at the facility included facial expression training to ensure the Walbots on the sales floor give you the same unwelcome feeling as their human counterparts, speed-carting to make sure that the Walbots are fluent at racing out of an aisle quickly and masterfully enough to nearly hit customers shopping in the main aisle and then keep going, and being able to answer customer questions as to where a product is with a simple, "I don't know, I only work night stocking."
From the tour, I was given it is apparent that these Walbots and Stangflip initiative will not miss a step, and the transition should be seamless. They appear to have the instincts of a late night Walmart stocker as well. I decided to grab canned peaches before leaving and sure enough, as soon as I hit the canned fruits isle a Walbot was just finishing placing a cart so strategically in front of the peaches that I could not possibly get to them. I couldn't help but smile knowing "the future is now".