MADISON, Wisconsin – Restrooms, believe it or not, have become the new battlefield in America's social wars. Many have tried to resolve these differences in Bakeries, Clerk of Courts offices, and even in many churches but the battle rages on with no resolution or end in sight. Now, some of our transgender friends, battle weary and angry, are speaking out and in a way, you would never imagine. According to transgender activist Terri Manorah,
Stop helping us! I used to be able to use the restroom without a problem. Nobody ever bothered me. Now you liberals with your bullshit agenda have decided to fight for the right for me to do what I have been doing daily for 29 years. I can't even get near a restroom now without strange looks and whispering. You assholes ruined it for all of us.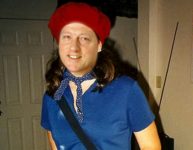 Terri is not alone. Transgenders nationwide are starting to speak out against what they believe is the left leaning portion of our nation using them for their own selfish ends.
Liberals hate us more than conservatives do. At least the latter did not try to use us in a condescending campaign to curry votes. Part of me believes they [liberals] wanted us out of the bathroom and are using small-minded conservatives that they can manipulate to do their dirty work and take their bad press. – Dorothy Mantooth (Director of Rights For All)
Perhaps we all need to step back for a moment and ignore the fake outcry from the left. Where were transgenders using the bathroom before this new initiative? Exactly!