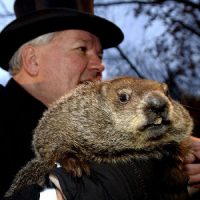 Winter is not a popular season, especially in the north.  Most people just want it to end which is why Groundhog's Day hold hope for many.  This year, however, the rodent celebrity of  Punxsutawney, PA had other things in mind.  At roughly 7:25 AM on the 2nd of February, Phil, or Punxsutawney Phil as he is better known to the world, predicted six more weeks of winter.  Reactions were mixed, but it would seem that anger sometimes takes a while to reach a full boil.
This year has been an emotional one already, with half the country upset over the presidential election results.  Among the rest is a contingent of the roughly half who are tired of shoveling the driveway every two days and bundling up to walk to the mailbox.  When 75% of the country is angry we have a recipe for riots.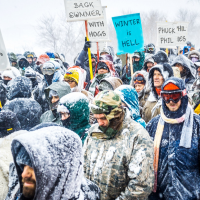 ANTI-WI, a relatively new group of anti-winter protesters, mobilized immediately after the pronouncement.  They have largely been silent on most predictions, but this one seems to have been the last straw.  They arrived in buses on the 3rd and immediately set up camp in the square with signs and bullhorns.  At first, they simply disturbed the peace with chants but things took a turn when representatives from the Punxsutawney mayor's office asked them to move on.
"I suppose that's when things took a turn,"  said Punxsutawney's Chief of Police, Matt Conrad.  He is referring to the random acts of violence perpetrated by the protesters.  They began setting fires, breaking windows, and in one case, beating locals.  A man named James Thurber was beaten seemingly because of his choice to wear shorts.  He is known as the man whose legs just never get cold.  Apparently, that was enough to set off the crowd.  He is currently nursing bruised ribs, a concussion, a broken nose, and several defensive wounds.
Detractors say that these protesters are irrational.  Others say that they are shills for 'big flip-flop' paid by George Soros to upset the natural order of seasons.  The only thing of which our reporters are certain is that if local law enforcement can't gain control, the National Guard is certain to intervene.