SAN FRANCISCO, California – like it or not Colin Kaepernick, the controversial backup quarterback of the San Francisco 49ers, has become a household name for sitting during the national anthem before his team's games. Many believe him to be a disrespectful twat for these actions but if you dig below the surface you find that he is simply an emotional guy with thoughtful intentions. Those who know him best tell a story of the man, a big heart, and the effects of music on his conscience.
I was riding in the car with him one day and Tommy Tutones 867-5309 came on the radio. He (Kaepernick) immediately veered to the right, parked the car, and sat beside it. I wasn't sure why at the moment but later remembered that Jenny was the name of his highschool sweetheart. – Mitch Hedberg (Childhood friend)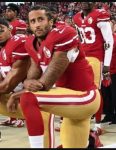 After speaking to family and friends we have learned some shocking secrets that no other media has been willing to uncover. Mr. Kaepernick is not merely making a social stand against the National Anthem. He is speaking with his heart in a way he wants all of us to hear. The National Anthem is only one song of many during which he refuses to remain standing. There is actually a list of songs he always sits through. "Colin is not unpatriotic, he just gets sentimental about certain songs and the anthem is just one of them," said Molly Warts who is Kaepernick's cousin. "He has been like that since we were kids."
We were able to piece together a partial list of some of the songs he sits through and why. Of course, it was impossible to compile the entire list, as evidently it is always growing and changing. These songs have given us a much better understanding of Mr. Kaepernick and his arguably unorthodox behavior.
Continue to see the list of songs and their meaning in Colin's life.
[huge_it_gallery id="2″]
Knowing what we know now it is difficult to be disappointed in his apparent unpatriotic stance. He is just an emotional guy who is moved by music. Perhaps if we all look inward there is a little tiny Kaepernick in all of us.