BURLINGTON, Vermont -"Lifting up his head he feels the sunlight in his eyes."
Bernie Sanders, embroiled in a long tough fight with former Secretary of State Hillary Clinton for the Democratic nomination for President,  has begun a "Phishing for votes" expedition in his home state of Vermont.
I love my Phisheads

I am calling on all of our Phisheads nationwide to help me secure the Democratic nomination for President of the United States. I understand you and you understand me. Let's ramble while Slop Scraper sighs! I am not dangling grape apple pies here. Call me Mango.
The Clinton campaign immediately sprang into action to attempt to slow Senator Sanders "Phishing expedition". The campaign, according to insiders, hired a couple Phish experts who are assisting the former Secretary in her knowledge of all things Phisheads.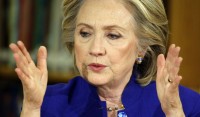 Senator Sanders does not own the fisheads! I can't spare a moment for the dog faced boy. Seriously though, I have been listening to the Fish since I was a young girl. I was raised on the Fish. Listen as she speaks to you. Hear the voices flutter through. We wont go home where we belong sing Monica, sing Monica… hey, who wrote this?
When reached for comment the members of Phish seemed a little disinterested and said only "You better put that woman in a looney bin."
Only time will tell who will eventually win the Democratic nomination for President. By the time all is said and done we can be sure that the voting block that calls themselves "Phisheads" will have a lot to do with who earns the majority of votes.