Rejoice! It is January again. A month full of snow, playoffs, and Tom Brady shenanigans. The King of asterisks will be at it again this year and Vegas is paying attention. Money, as always, is on the line and Vegas needs to recapture some of their revenue on Patriots games as big betters are afraid to lay down money where cheating is involved.
Our biggest betters have been avoiding New England Patriots games because of the constant cheating that they are accused of committing. Therefore we have decided to make the cheating a way for our customers to bet and make money. – Jason Kratz – Vegas bookmaker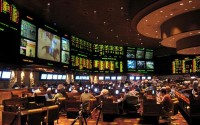 According to Kratz the odds are 3-1 overall that the Patriots as a team will cheat. The odds that Tom Brady will be involved directly in the cheating are 4-1. The odds of each of the following are set at 5-1 due to advance betting:
The patriots manipulable the balls or other equipment (including uniforms)
The Patriots involve non-team personnel  (including game officials, and coaches from the opposing team)
The Patriots use electronic surveillance to gain a further understanding of the other teams game plan (Including theft of playbooks either written or electronic)
The scoreboard operations which either manipulate the score or time
It is not a question of, if they'll cheat, it is a question of how they plan to do it. We will be very vigilant in watching for, and exposing, their cheating.
Many have been asking about the NFL's involvement and how they factor into the betting. According to Kratz that is a big part of this.
The NFL does not have to agree that cheating took place to win. In fact we have 3-1 odds that the NFL will try to cover up the cheating that we all know will occur. It has been a very popular betting option, and as of now, holds the most betting interest. – Katz
When we asked about some of the big name betters and the amounts placed, Katz was a little tight-lipped.  He did offer this, however…
It would be unethical for me to comment on such things but also unfair if I didn't mention that a certain #12 has placed a $10,000 bet on the cheating coming from the scoreboard operator. Do with that what you will.
Seems like cheating is big business in every facet of life in the NFL.  Place your bets accordingly.