WASHINGTON, D.C. – The Federal Bureau of Investigation and the Department of Justice are under tremendous scrutiny for their handling of the crimes committed by Presidential hopeful and former Secretary of State Hillary Clinton. This is a day that the department of Justice does not want to relive anytime soon so they have decided to release an extensive list of crimes that the Clinton family is permitted to commit.
If the American people know beforehand what laws apply to the Clinton family we will be able to avoid press conferences in the future concerning probable indictments. This just makes the procedure run much more smoothly. Mohammad Jabbar – DOJ spokesman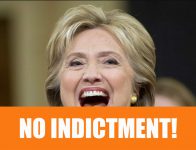 We were already aware of perjury, sexual assault, sexual battery, rape, treason, mishandling of classified documents, lying under oath (yes I know that is perjury but they have done this so many times), charitable fraud, campaign fraud, and mail fraud. Now the DOJ has added several dozens of other crimes to that list for which they will refuse to indict the Clintons. This list includes:
| | |
| --- | --- |
| Mopery | Jay Walking |
| Public Urination | Disturbing the Peace |
| Being Jewish in Poland | Public Intoxication |
| Wearing cotton / poly blends | Playing ding, dong, ditch |
| Indecent Exposure | Indecent behavior |
| Driving while black | Genocide |
| Embezzlement | Racketering |
| Animal cruelty | Mattress tag removal |
| Running a sweatshop | Human trafficking |
| Illegal immigration | Eating all the cookies before the AIDS bake sale |
| Hurling foreign objects | Beastiality |
| Wrongful imprisonment | Cultural appropriation |
This list of crimes the former Secretary will not be charged with leads to the obvious question, what crimes WILL she be charged with assuming she commits them. We were able to get only two from Spokesman Jabbar. These two heinous acts are using a men's restroom in North Carolina and refusing to bake a cake for a gay wedding. I certainly hope she wouldn't dare.