There are many things that separate and make us different than everyone else. We have different races, genders, orientations, and many more specific traits that help us stand out in a crowd. What if those traits were used against us for harm? What if you were singled out based entirely on those differences? This happens every day in communities throughout the United States, and we must all be aware of the societal implications.
Take Red Hanson, for instance. He lives in the small town of Icky Creek, Georgia which has a population of only 455 people.  He is the only person living in, or around town with red hair.  He is fearful of his safety because every time police send out a report that a person with red hair has committed a crime, he is profiled and harassed.  He refused to allow us to photograph him, but due to his striking resemblance to Kyle Broflovski from the television show South Park, we just used a stock image of the character.
It is so unfair here in Icky Creek. Every time I commit a crime I get harassed immediately by police. The only reason they are harrassing me is because I have red hair. I don't think they should be able to report the hair color of the criminal every single time I do something.
Hanson has been arrested 13 times in the past year for offenses ranging from theft to assault. He has been in and out of jail since turning 18 and because of the "hair specific" police reporting in his local community he expects to continue his torturous run with the law.
How would you like it if police were always looking for you every time something bad happens? It is not even worth robbing people anymore. I am a victim of this reporting policy because the police are full of hate for people who look like me.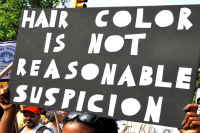 The local chapter of the American Civil Liberties Union (ACLU) has been contacted and are currently in Icky Creek helping Mr. Hanson stop this genetic inquisition. According to the A.C.L.U. local chapter president Hack Shill, Mr. Hanson's human rights are being infringed.
This is 2016. Mr. Hanson is being disenfranchised by the very people looked to for upholding the law. Each time a police report is made that a red haired person has committed a crime Mr. Hanson is harassed without relief. This is profiling in its most evil form. Evidence has been collected from his garage illegally based on warrants obtained from a simple description that the subject had red hair.
In order to be fair we reached out to the honorable John B. Wright, district court judge for Icky Creek, who stated, "Mr. Hanson has been caught red handed so many times that we believe the accusations of profiling are ridiculous.  We are not looking for red haired people to bother. It just so happens the one guy committing crimes in town has red hair".
In response, Mr. Shill pointed to the obvious undertone in judge Wright's statement.
Red handed? Is that supposed to be some kind of epithet? It is obvious that the only reason Mr. Hanson has ever been arrested is because of his hair color.  Judge Wright is in collusion with local authorities to punish him [Hanson] for nothing more than having red hair.
It should be obvious to all readers that there is a serious problem in Icky Creek. Mr. Hanson continues to be harassed and there is no end in sight. Please stand with Mr. Hanson and Mr. Shill in their attempt to right this wrong and bring real justice back to Icky Creek.