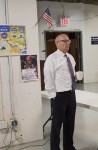 In another bold election cycle move, the ever opportunistic Donald Trump has petitioned to trademark the word "great."  The often overused adjective of choice for Mr. Trump is now causing more publicity on the legal front.
Our phones are ringing off the hook and everyone wants The Donald for interviews.  This has been absolutely great!  Sonofa… I think I owe The Donald a dollar now. – Joshua Hixenbaugh (Trump campaign advisor).
Many folks have been very vocal in opposition to Mr. Trump's latest foray into trademark and copyright law.
You can't just trademark a single word, especially one that has been in the dictionary since day 1. Someone needs to stop this guy before he buys everything. – Irving Naysayer (United States Title Clerk).
I had a chance to speak briefly with Mr. Trump during one of his campaign stops in one of the towns that hasn't barred his entry.  We talked about his intention to trademark the word.
IS – Mr Trump, why are you trying to buy the word great?
DT – Many people use it and have no idea what it means. I am gonna make it great again.
IS – Make what great?
DT – Great.
IS – What?
DT – I'm gonna make great, great again.  You won't believe your eyes when you see how great great is again.  People say stupid things are great but they're not great.  Only good things can be great.
IS – But if things are good they are not great, right?
DT – No, good things can be great. Sometimes good things are the greatest things ever.  I am gonna show you how good, good can be when it's great.  I am the only person who can promote good into great.  Just wait and see how great good is when it's great."
IS – At least we know that bad cannot be great and trademarking a word that has existed long before you were born is bad, is it not?
DT – Bad can be great too. I know how to make bad great.
IS – No it can't. Bad cannot be great as it is always in opposition of great.
DT – Yes it can. Bad can be great if you know how to work with it and create it greatly. You are gonna be shocked when you see how great bad is.
IS – You need to give me an example of bad being great. I am having a very hard time following you on this.
DT – Lets say you have contractors working for you but you don't feel like paying them. That is pretty bad. I simply have my attorneys file for bankruptcy protection against the contractors and keep my money and it's great. See, bad is great.
IS – But it is still bad for the contractors Mr. Trump.  This is not great for them.
DT – We will just build a wall and keep them out.
IS – Contractors? 
DT – What?
IS – You want to build a wall to keep contractors out?
DT – I never said that. You people in the media are something else. I am only talking greatly about great things good and bad. Time's up as I have some great things to get done.
IS – Like what?
DT – I can't tell you, but when you see it you are going to say it's great. You may say it's the greatest thing you have ever seen. After all, no one does great like me. Good or bad I make everything great. Just wait and see.
IS – So these secret things you are going to do will be great?
DT – These great things will be terrific. There is no doubt you will wake up and think that the good, the bad, and the great are all terrific.
IS – So what you do next will be terrific? 
DT – It's gonna be outstanding.
IS – Great.
DT – You owe me a dollar.