CHICAGO, Illinois- Mayor Rahm Emanuel has scheduled a major press conference for next week to introduce the newest and grandest idea to get guns off of the streets of Chicago. His "Guns For Jordans" campaign is a bold and audacious move to get us one step closer to a gun free Chicago, and eventually Illinois.
He's willing to try anything

We've had a hard time getting guns from gang-bangers. They like the additional protection that guns bring.  I hear the only thing they like more is Jordans.  I have struck a deal with Nike that will get thousands of guns off of the streets. – Mayor Emanuel
Many citizens of Chicago are upset about the racial undertones of Mayor Emmanuel's proposal and have been vocal about their opposition.
This is not how this works. These people are going to break into my house and steal my guns for shoes. I am now a target. – Bill Aires, Chicago resident (they know who you are now, Bill)
Why is it only Jordans? I would love to trade my guns for a nice pair of Dockers or Crocs. This is just racist all around. – Saul Alinski, Chicago resident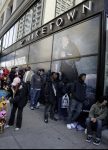 The shoes will not be immediately available and will be delivered after the consumer sends in a voucher given to them by the mayor's office.
Each gun will entitle the owner to one shoe. If you turn in two guns you receive a pair of Jordans. If you turn in four guns you recieve two pairs, and so on. This will finally insure the citizens of Chicago that the only people with guns will be the police. – Mayor Emanuel.
Chicago has a way of leading the nation on such ventures and 2nd Amendment arguments are no exception. Turn on your red lights and put on your Jordans, Chicago.  Your day has come, and peace is on the horizon.