YOUNGSTOWN, Ohio –  Perseverant, indefatigable, resolute. One man stands as a testament to the power of the soul over addiction and adds another slash to the wall of persistence. Julio Brown May look like an ordinary Youngstown, Ohio resident but you can't judge a book by its cover. On March 11 of this year, Julio set a new personal milestone in his life by hitting his 480th-month being heroin free.
It get's harder everyday. This is no picnic. Nobody pats me on the back for this but I do it for me. It would be easy for me to fall off the wagon. Maybe then people would pay more attention. Either way I am just gonna stare at my needle everyday until I just can't fight the urge anymore. – Brown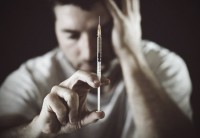 480 months without heroin seems to come free of celebration, adulation, or even hugs unlike those received by people celebrating their 30th day of being drug-free. All over social media, we are reminded daily of people's fight against terrible addictions. This individual celebrates being clean for 1 year while another touts 1 month. Thousands of likes and comments of congratulations follow for them but nothing for poor Julio.
I don't remember hitting the 30 day clean mark. I was just a baby. I like to hope that my parents celebrated for me. I remember my 120th month being heroin free day. Nobody even mentioned it. Sure many people said Happy Birthday but no one congratulated me for my 10 years being heroin free.
Julio is one of many people in this large Ohio city who have been forgotten casualties in the ongoing drug war in America. We recently spoke with addiction counselor Tina White who had this to say,
It seems as if we only want to recognize people with shorter drug free stints. I saw a man with a shirt yesterday that said 'drug free for 20 minutes.' People were shaking his hand and congratulating him. Still no love for Julio after his 480 months.
Lessons can be learned from Julio's story. Being a 40-year-old man celebrating his 480th-month being heroin free is ignored while a 40-year-old man celebrating 1 month free of heroin is applauded. Perhaps Julio should change his ways if ever he is to receive the adulation he seeks and deserves.